Latest news live from Nepal... (More added 1st Dec)
Jason and Jo have now landed in Lukla, a day late, but obviously glad to have arrived given the difficulties Nepal have faced recently with inclement weather conditions.
They have now started their long trek to the start line ready for the race start on the 2nd of December.
Jason and Jo have now reached Namche Bazar and are now residing some 10,000 feet above sea level!
Latest Update (from Jason)
Just to let you know after a shaky start and a day sitting in Kathmandu airport we finally got to make the amazing flight into Lukla airport. Having had four crashes there last year and three so far this year it is quite entitled to it's reputation as the most dangerous airport in the world!
We started our trek yesterday from Lukla to somewhere I can't pronounce and then from there today to Namche Bazar. It's just over 10'000ft up here which is taking a bit of getting used to.
When the sun is out it's warm enough for t-shirt and shorts but as soon as it goes in it's cold enough to freeze the water in your drinks bottle.
We've got a rest day here tomorrow to try and let the headaches subside when we will then carry on upwards. Found out today that the race route has a three mile mow cop style incline on the way down to the finish line.......and then it's a two day walk back to the airport...............'note to self'..........read the bloody small print.
An elderly man runs 10k in Nepal.yesterday.
We've been on an acclimatisation climb to 13'000ft today to see some amazing views of Everest... breathtaking... literally!!
Back down to Namche Bazar now before continuing our trek up towards Everest Base camp tomorrow.
One of our sherpas has summited Everest 19 times and is tipped to be the first person to crack it 20 times!
I'm not allowed to talk to him in case I get any stupid ideas!
Latest news received Tuesday 22nd November Evening
Jason and Jo have just arrived at Dole which is their first night above 4000m. Everyone is suffering with the high altitude although Jason and Jo less than most. (Must be all the time spent in the Mountains of Wheelock!)
The temperature dropped to -8
°c in their tent last night, brrrr!
Latest news received Thursday 24th November Evening
Rest day at 14500 feet which is just as well as Jo is suffering with some altitude sickness. Climbing up to 16000 feet tomorrow but then straight back down. Only 7 more days walk to the start line!
Latest news received Saturday 26th November
Just been up to 16,000 feet at Gokyo and now back at 15,000 feet. Took 7 hours. Jo is much better although none of us are free from the effects of altitude. Heading lower again tomorrow.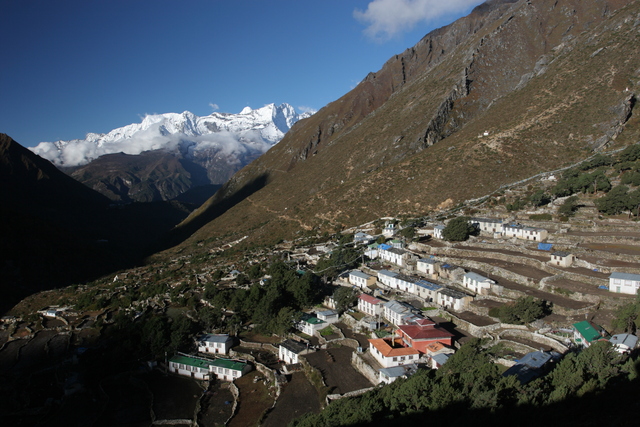 The course looks reasonably flat compared to Cheshire
Latest news received Sunday 27th November
We've moved onto Pangboche without incident (we ran a bit of it so we want out club ticks!) Only a couple of the group are ill but we're all feeling the fatigue of 10 days trekking and sleeping in tents. Everyone's goal at the moment is just to make it to the start line.
Latest news received Tuesday 29th November
Mountain view near Lobuche
We have made it to Lobuche, our highest point so far at 16,500 feet. Helicopter crashed here just as we were arriving if only to emphasise the height. Nobody hurt. Headaches all round for the runners but hoping they'll ease soon. All tense now as we need to pass medicals here on Thursday before being allowed up to the start line.
Latest news received Thursday 1st December
Both passed our medicals this morning and have made our way up to Base Camp somewhere about 17,500ft. Only 50% atmosphere up here so it is very difficult to do anything! The terrain is insane, as is having a full phone signal!
No sign of a pink tent at Everest Base Camp.
---
Check back here for more updates as soon as we receive them!